The Ministry at the Intercity Hospital and its various wards.
I remember back when I had first started my ministry at the Intercity Hospital in Tegucigalpa over a year ago  that I found myself thinking at times about this ministry that God had called me to.  I had been called to help the mothers and babies at the maternity ward and I remember all the opposition that I had received from the guards at the entrance to the hospital and at times the cold reception from the nursing staff.  "Why is it that the guards and nurses don't want us inside to help these people I often found myself thinking! Here we are with donations for the mothers and the babies in this hospital and it appears that nothing is working".
Now, I laugh in a sense because it's so amazing to see the difference in the guards, nurses and doctors.  Most every nurse and guard knows us and when they see us they usually throw us a big smile. When we see the nurses and doctors in the corridors they pay us respect by thanking us for being in the hospital helping those in the various wards who have great need.
In addition to our ministry at the Maternity Ward, today we started visiting the Children's Kidney Center, which is another area on the floor of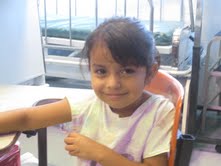 the Pediatric Ward.   One of the nurses wanted us to ask for permission from the head nurse to make sure it would be  allowable for us to visit these children.  As we approached the nurse's desk she kind of looked us over a bit and said, "So what are you here for?    I replied, looking at her with the compassion that God gives us for those in need, "We love children and Jesus wants us to give them a smile and He wants them to know that He is present in this place, that He is powerful, that He loves them and that He is here to help them and heal them."  Wow!! the head nurse answered, "We have never have people visiting our children for that specific reason before!  You are more than welcome to help!" she replied.
At the Kidney center there are three rooms. Two rooms with children who are receiving treatment for a specific type of infection related with their kidneys and the others are there because they are too frail and weak to go home.  In the third room there were about 6 children receiving dialysis.  My heart was broken when I saw these little ones sitting next to a machine that was purifying their blood but I was so thankful that I was able to make them laugh and talk with us as we shared God love with them.  Today we taught them about the creation and how they can talk with God.  "If God is powerful to create the heavens and the earth do you think He is powerful to heal you?" I asked. "YES" they answered at the same time.  We prayed for all the children and we knew that God was indeed present to bless them.
We spend about $400.00 a month with our children's hospital ministry; this includes our visits to the Cancer Ward, Orthopedic ward and Kidney Center.  There are two ways that you can be part of this ministry:
1) Please be partners with us in praying for the ministry, the children, and the hospital.  The intercity Hospital is one of the poorest hospitals in this country and sometimes they don't have adequate funds to obtain medications, equipment etc to provide these children with adequate care.
2) If you would like to help us or know somebody that would be interested in helping please let us know.  Remember that you can also make your donations here on our website at donate now.
Respectfully submitted,
Alexandra