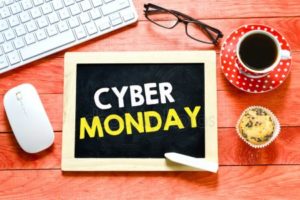 Tomorrow, Monday, November 26, 2018 in the USA and in many other countries around the world it's the day to fling aside all restraint to buy items that one might think that they need for themselves and others  in order to save an incredible amount of money buying online.
Just a thought for those of you who are Christian by practice, might I be allowed to suggest that for each purchase you make on line tomorrow and this coming week, try to  set aside a tithe (10%) of the purchase price or even a tithe of what you save to help a needy family this Christmas who has nothing without fault of their own.    You can read below about our Click for St. Nick Christmas baskets that we distribute each year at this time.  Your donation of $40 will buy a basket of food that will feed a family for about 2 weeks.  Please tithe and help.  Go to donate and scroll down to Click for St. Nick to make a difference in the lives of a poor family this year.
Blessings to you for doing so!