Mark's gospel talks about serving others and there were those who were wanting the obviously big event that would give big time honour and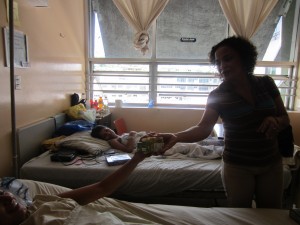 glory to those in the limelight but Jesus knowing their hearts said to them that, "anyone who gives you a cup of water in my name because you belong to Christ will certainly not lose his reward."  It was a truth told by Jesus and quoted in Mark 9:41.
When Alexandra and her Christian friend visited the local Intercity Hospital the other day they brought with them little snacks to share with those who are there confined to their hospital beds.  In talking with Alex afterwards about her experiences at the hospital I was reminded of this verse in the Bible.  Her giving of a small package of cookies and a small carton of juice to each lady and girl she visited was in a small way,  saying that in Jesus' name she was giving to them much like he calls all of us to do.  She came back rejoicing that she was able to pray for so many and a good number were deeply moved in their time together.
She had mentioned that she had been so filled with joy to be there and she returned rejoicing at the wonderful things they were able to do.  She mentioned that she hadn't brought Jesus to the hospital but rather upon entering each room she saw him there in Spirit with every patient.
Now it's so clear what Jesus meant when he said in Matthew 25:40, "…I tell you the truth, whatever you did for one of the least of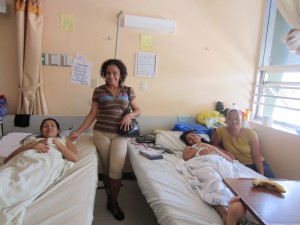 these brothers of mine, you did for me."  Jesus was there with all those patients who had such great need and Alexandra was excited and joyful because she had been in the very presence of Jesus while she was sharing with them.
May God continue to bless all that each of you do in reaching out to those in need!
Joyfully,
Mateo & Alexandra