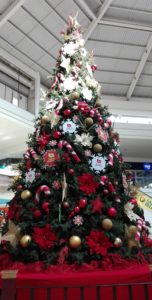 Christmas in Central America is around the corner seeing we don't celebrate Thanksgiving like you do in the United States and Canada. It's a favorite time of year for me because I highly value the birth of our Lord Jesus Christ who came to this world so that everyone who believes in Him can have eternal life plus they can have a life here full of value and purpose.
It's  also a favorite time of year  because I can thank God for all the blessings received in my life throughout the year and I also can thank him for the opportunity that He's given me to bless  those that he's put in my path this past year.  I pray these mothers and children will come to know Him better and that they'll have a closer walk with Jesus in 2018.
That's why Christmas is a time to celebrate as we share gifts with those we love as well coming together to share family time and a common meal with those we love.  The gifts we give are an example of the great gift that God gave us by sending his son Jesus.
I invite you to click above on SOR Mission at work/justice to read the entire article about our Central American Christmas party.