So have you as yet clicked for St. Nick?  Have you wondered where in the world did that idea come from?  Well to clarify both questions, the first one is for you do do your part on your mouse of which  you may have a similar one.  The second one is for me to clarify where did I pick up that expression.
So when you click your mouse usually your clicking on something that you want to save, purchase, cut and paste, etc and in this case we're hoping that you will click your mouse for our Saint Nick Christmas basket program.
So what are we doing this year with our baskets of Christmas joy to those not looking forward to much this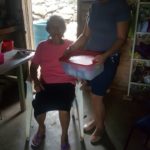 Christmas?  We'll be packing them with food purchased wholesale in Honduras so as to maximize how much we can fit into the plastic bucket.  It includes what we consider a basic food basket with items that won't spoil overnight as such and will also include some kitchen utensils and a New Testament of the Bible so as to read to the family the Christmas story of Jesus being born in Bethlehem.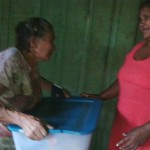 We will pray for the home and the family asking God to bless them and to help them in the coming year to break the cycle of poverty by finding work or recovering from a sickness.  , In the case of the widows like 75 year old Mrs. Sofia shown here who without pension and help is eking out a living doing what she can and single mothers who are struggling so much, we pray that as God's loving eyes are on the sparrows so also will they be on these people who God considers so important in the Kingdom.  Please help us if you can.  Go to Donate now and scroll down to Click for St. Nick and once there follow the prompts for making your online secure donation to help another family have a blessed Christmas.  Each basket costs us about $40 each.