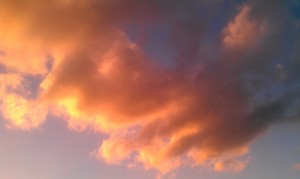 We all love pictures and they say a thousand words they say. So let's see what you see in the picture to the left.  I see fluffy clouds that gently passed over Tegus one morning while I was out and about early one morning.
Starting today we will be posting pictures on a weekly basis pictures from our work and what's going on with the mission.  We would love your  comments as to what you see and think.
This coming week we will be posting pictures of our latest work party who arrive from the USA tomorrow and will be working with a national team of Hondurans to put on an addition to one of the churches that we work through a relationship SOR Mission has with Manos de la Obra Ministries.  We will post pictures of the progress of the construction project on Pictures as well as commentary under the heading of Construction.
Please join us on a regular basis to see what's happening with the mission and also to help facilitate you to get further involved with the Great Commission of Jesus, that being to evangelize the entire world starting with where each one of us lives.
Joyfully,
Mateo