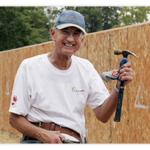 Millard Fuller, founder of Habitat for Humanity, once said that they didn't give out handouts to families challenged by life's struggles  but rather handup's.  Over the years that stuck with me and that too is our "action statement" of what we do here at SOR Mission.  Combining that with our mission statement which is an "action statement" of our purpose, which is to connect human need with God's resources.  
This coming week we'll be putting our actions to work with the building of a house for Eva
and her husband and family.  We're putting love to work under the banner of service to help this family.  How do we do it?  Click here  or go to SOR At Work  to be taken to the construction page to see a few pictures and a few more comments about this project.  We use local labour and donations from readers like you to help us with these project.

                                                    "Sow righteousness for yourselves,
                                                          reap the fruit of unfailing love,
                                                    and break up your unplowed ground;
                                                 for it is time to seek the Lord…"  Hosea 10:12