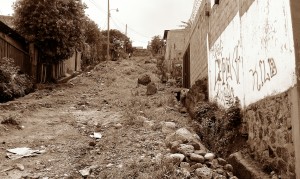 Planting Seeds of Righteousness through Boundaries
Tonight at 6pm 5 PDT, we'll begin our 2nd class in the series entitled "Boundaries" at our local church.  I posted some comments last week about the great turnout.  We are expecting additional people tonight and we pray for those attending to have a great evening of teaching.  Some of these dear people take buses for over 2 hours to attend the class.  Their faith makes me look at time rather anemic I think.  Pray for their safety and our clear team teaching.  These are some of the roads they travel on to get to the bus.
Some of these people taking the bus have a two hour ride to get near their home then after the night settles in they need to walk up roads like
these shown on this page  to get to their residences.  These roads are strewn with rocks and garbage and it's not easy even during the day to get to these places. In addition this is a dangerous area of the city to walk in at night so we pray for their protection.
Pray that the seeds of righteousness that we plant tonight about boundaries and the limits God wants us to set for our lives will change these Honduran people so that their lives will conform more to the beauty that God wants to display in us through his power and love.
Joyfully Submitted,
Mateo