This past week on Monday night Mateo and I arrived at the church for the Bible study.  I was surprised to see that there were over 30 women there for the study.  Many of them were younger than 20. "
I  had just one question in my mind: How can I help these young women in some way? "
The Lord immediately put in my mind Isaiah 61:1-3 which says:
The Spirit of the Sovereign LORD is upon me,
for the LORD has anointed me
to bring good news to the poor.
He has sent me to comfort the brokenhearted
and to proclaim that captives will be released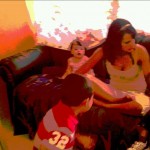 and prisoners will be freed.
He has sent me to tell those who mourn
that the time of the LORD's favor has come,
and with it, the day of God's anger against their enemies.
To all who mourn in Israel,
he will give a crown of beauty for ashes,
a joyous blessing instead of mourning,
festive praise instead of despair.
In their righteousness, they will be like great oaks
that the LORD has planted for his own glory.
After meditating on this scripture I thought to myself, that it was for this reason that I'm here in Honduras; that this is to be a part of my work here, helping many of these young people come closer to the Lord, to invite Jesus into their hearts and to help the Lord to heal their deep wounds that many of the women have. Only Jesus can make a difference!  He's at the door of each of these women waiting to be invited in to dine with them and give them that perfect love that only He can give.
This is like the life of a girl I'll call "Maria", 19 years old who approached me and asked me my advice. We met and had coffee together so that she could express all the pain she has suffered since she was 9 years old, having experienced great pain in what she has been through. Similarly, God has given me the opportunity to give advice to "Rose" and "Jessica" as well. I am very happy to have this special opportunity to help them be transformed so that they can find the oil of joy INSTEAD of mourning, garment of praise Instead of a spirit of despair and the MOST importantly the great love that can only be found in Jesus Christ
Please continue to follow us at www.sormission.org and also if you wish to receive our updates, please subscribe by replying with your message to this site.  If you wish to partner with me in this amazing work in helping girls and women click on the donate now button.
Alexandra