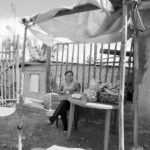 Recently I have been thinking about the simplicity of the gospel and what God had in mind
for all of us when he sent Jesus Christ to be the solution to a complicated and stressful life.  In developed countries such as the USA, Canada and the United Kingdom we have, I believe,  complicated Christianity to where we've lost some of its basic tenets of the faith.  I won't add a list here but the two passages of Scripture below speak so clearly as to what God requires and expects of us.  It doesn't get much simpler that this.
Defend the weak and the fatherless;
    uphold the cause of the poor and the oppressed.
          Rescue the weak and the needy;
    deliver them from the hand of the wicked. Psalms 82:3-4

At SOR Mission through our Mercy and Justice ministries  we seek to do just that: We attempt to defend the weak and those without provision from a wage earner; those in need and so susceptible and without a voice.  What a joy it is to serve others.  So when we get stressed out g that its quite simple because he's told us what's the right thing to do.
                                                                             The Lord God has told us
what is right
    and what he demands:
"See that justice is done,
let mercy be your first concern,
    and humbly obey your God." Micah 6:8