Our goal is to reach 125 families  – 125 baskets – 1,2 or 3 at a time!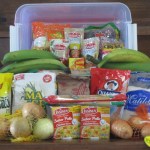 This  month  we will kick off our campaign to raise money for the  Click for St. Nick Campaign in Central America.  We've been busy preparing for this moment as one begins to feel fall in the air and one begins to think of the upoming fall/winter holidays coming shortly.
If you have the desire to help us this year to make a difference in the lives of 125 families, then go directly to donate now and once there scroll down to "Click for St. Nick" to make your secure online donation of $39, $78 or $117 or more  to buy 1,2, 3 or more baskets @ $39 dollars each.  If you would like to send in a check  or pay using PayPal you can go to our contact us page on this site to find our mailing address or email address for PayPal.
The time is approaching when we will be purchasing these baskets in Honduras as well as Nicaragua and Costa Rica.  Where feasible, we'll be putting the baskets together ourselves with local volunteers from the community. We are putting together the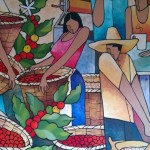 basket shown in this picture as well as adding potatoes, onions, plantains and a bag of tortilla mix.  In addition, each family will receive plates, glasses,  silverware along with a kitchen knife.  All together, this will be a huge blessing to each of these very poor families.
Please consider helping if you can as this provides us at SOR Mission the opportunity  to be a blessing and to open up doors of opportunity during the year to share the good news of a new life in Jesus Christ through knowing him personally.  The Psalmist tells us in Psalms 41:1 that,
                                                             "Those who pay close attention to the poor are truly happy!
                                                                        The Lord rescues them during troubling times."