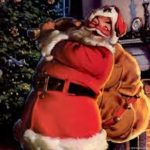 Thinking back to Christmases past, I remember it was my Uncle being Santa Claus at our home and we kids never really knowing it was he who was dropping off the  presents at the front door. It was a time of celebration, gifts and wonderful food and desserts.  I think we lost a bit of the true meaning of Christmas by the depth of our own Christmas celebration.  It was really a secular family Christmas.  I didn't capture the deep and true meaning of Christmas until I became a Christian many years later.
Visiting a family of very limited resources yesterday in Honduras where I work  as a  missionary, I was once again overjoyed in being able to help them through SOR Mission's 0% interest new home program.  What a joy to meet this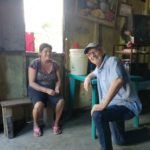 family and knowing that the generosity of people like you   – Giving -who support this mission is making Christmas possible for this very needy family.
Earlier in the week we left them a Click for St. Nick basket of a two week provision of food and some kitchen utensils. If you would care to help us with the purchase of some needed additional baskets you can click on donate now and scroll down to Click for St. Nick.
The Apostle John reminds us in his book written in the first century of what Christmas is truly about in telling us  that "God loved the world so much that he gave his one and only Son so that whoever believes in him may not be lost, but have eternal life"John 3:16