Central America
In Costa Rica it's "Pura Vida" (8-10-20)
When visiting Costa Rica or living there it doesn't take one very long before someone will say to you, "Pura Vida" or pure life as it translates into English. Just where did the "Ticos", get the name given to Costa Ricans, find this expression and when did they begin using it? Pura Vida is pronounced POO-rah VEE-dah, in English
According to local history, the expression came from the film entitled, "Pura Vida" made in Mexico in 1955 and first shown in Costa Rica in 1956. The film was directed by Gilberto Martinez Solares and the film was about a character played by Mexican actor Antonio Espino.
The character in the film could never seem to do anything right. He was the epitome of making mistakes. In spite of his failures in the film the character used the expression "pura vida" to express his huge optimism for things somehow turning out right in the end. An eternal optimist one might say.

Interestingly this expression, from its introduction into Costa Rica in 1956 when it was first used by a small group of people near the capital San Jose, became widespread in its use throughout the country. It didn't take more than 14 years, as by 1970 it was used in all the 7 provinces of Costa Rica. .
It's said that happiness and well being are what the expression "pura vida" reflects but often times it's used for leave taking or to express understanding as to what someone might be saying to you.
When one spends time here it becomes evident of the happiness of the Costa Rican people. That's why they rank 12th on the list of the happiest countries of the world. Denmark ranks #1st, Canada #6th and the USA #17th.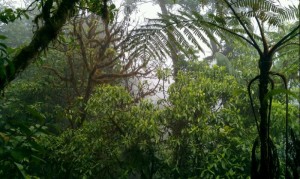 "Pura vida! means that no matter what your current situation is, life for someone else can always be less fortunate than your own. So you need to consider that maybe…just maybe, your situation isn't all that bad and that no matter how little or how much you have in life, we are all here together and life is short…so start living it "pura vida style".  Join with us at SOR Mission to help others experience real pura vida in Christ through a personal relationship with the Creator of the World.  It truly brings a happiness that ranks #1 throughout the Universe.  Start by reading the Gospel of John starting with chapter 1 and reading through the end of the book.  Start here!
The Gecko and I – a story in real time – from the tropics (10-28-17)

 
Over the last few years we've had some gecko lizards passing through but unfortunately they never wanted to hang around for too long.  Maybe they felt my wife's dislike of them seeing that she was a city girl through and through.  However while living in Thailand some years ago and having so many geckos where I stayed up country I learned that they are considered good luck to have them in the house. They ate their weight in insects and their calls made the house a fun place to be listening to them call each other, "gek-ko, gek-ko".  You kind of got used to it.
 Our last house guest was in Honduras where he lived in the palm tree we had in the living room.  He had the run of the apartment and as a result we never had any major mosquito or insect problems while living there until THAT day when we moved out.  The mover scared the gecko out of the palm tree while he was moving it and in a flash my dear beloved gecko lay flattened on our tile floor.  I didn't know what to say or do.  I had lost a dear friend.
Recently we had the honour of having another house guest who has wanted to make our kitchen its home and to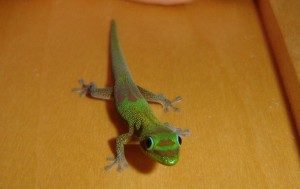 hang out and become a part of our family.  I have been so happy to have him/her around to bless our house but my city girl other half is very dubious in wanting it around.   She's researched the web and now has scattered fresh garlic and cracked egg shells around the kitchen to rid it of my friend.  The kitchen kind of smells like an Italian kitchen will all that garlic.   I will probably collect it soon so gecko can have the run of the kitchen to get all those ants and other creepy crawlers.
Since he/she has moved in the ants in the kitchen have disappeared as well as other types of crawly insects that loved to hang out around the crumbs.  They are such a blessing to the house and now we have this love/hate thing going.  I love gecko and she hates gecko.  What are we to do?  Stay tuned!
Delicious Mangos are beginning to appear! 

(2-16-17)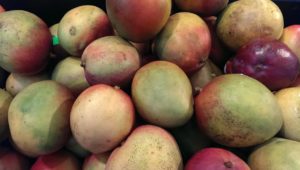 The beginning of the mango season is now upon us.  We should have delicious mangos now through the middle of May here in Honduras and Costa Rica.  Because of supply and demand the price rises at the beginning of the season for a delicious mango.  Now they are selling for about $2.70/kilo but they are still better than what you find up north. Now this may seem like a  somewhat  good price but it doesn't reflect the absolute desperateness of the people living in poverty in Tegucigalpa, Honduras and in various urban areas of Costa Rica.
Now for those of you accustomed to eating mango's that have been picked green and shipped one or two thousand miles north,  you might not realize the absolute joy of biting into a ripe mango and enjoying the tropical flavours come alive.
During my time in Thailand as a missionary I learned to enjoy the mango season with a bit of "sticky rice" and coconut milk.  Sticky rice is a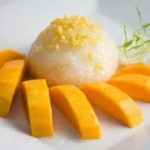 glutinous rice that once cooked is quite sticky and and forms into a nice shape so you can serve it along side of sliced mango's accompanied with coconut milk poured over the rice.  Once you've had it you're hooked.  The combination is delightful.  You must try it if you have a chance.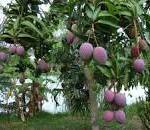 These delicious treats don't address what I had mentioned above about the desperateness of the life of the poor we work with in Honduras and Costa Rica.  They are people simply without options and without any food to eat in the house because of the lack of work and opportunity. One of the glaring injustices that the poor suffer more than any other class of people is their lack of access to credit.
With that in mind we work in helping people achieve the dream of home ownership through a 0% interest loan with SOR Mission as well as helping those wanting to establish a small business.  In the area of micro enterprise we help those who want to work and those wanting to provide for their families  by giving them access to an interest free loan from SOR that is repaid back to the mission at 0% interest.  Please help us by signing up for a monthly donation to help the people in Central America through SOR Mission's micro enterprise program.  Click on the donate now button above.
Today is Juan Santamaria Day in Costa Rica (4-11-16)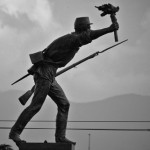 Juan Santamaría (Aug. 29, 1831 – Apr. 11, 1856) was a Costa Rican soldier, also known as Nacho Gonzales, and is officially recognized as the national hero of this country. Today, April 11th is observed as Juan Santamaria Day, a national holiday in Costa Rica.  Santamaría was born in the city of Alajuela, Costa Rica.
Today is celebrated with parades, speeches and festivities around the country and especially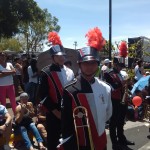 in Alajuela, Costa Rica the home of Juan Santamaria.
When U.S. filibuster William Walker from California, USAÂ Â  overthrew the government of Nicaragua in 1856 he attempted to conquer the other nations in Central America, including Costa Rica and Honduras, in order to form a private slave-holding empire.
Costa Rican president Juan Rafael Mora Porras called upon the general population to take up arms and to march north to Nicaragua to fight against this gringo foreign invader. Santamaría, a poor laborer and the illegitimate son of a single mother joined the army as a drummer boy. The troops nicknamed him "the Porcupine" on account of his spiked hair.
After routing a small contingent of Walker's soldiers at Santa Rosa, Guanacaste located in northern Costa Rica, the Costa Rican troops continued marching north and reached the city of Rivas, Nicaragua about 19 miles north of the Costa Rican border on April 8, 1856. The battle that ensued is known as the 2nd Battle of Rivas.  Combat was fierce and the Costa Ricans were not able to drive Walker's men out of a hostel near the town center from which they commanded an advantageous firing position.
According to the traditional account, on April 11, Salvadoran general leading the forces at that time suggested that one of the soldiers advance towards the hostel with a torch and set it on fire. His order was unmet until finally Santamaría volunteered on the condition that, in the event of his death, someone would look after his mother. He then advanced and was mortally wounded by enemy fire. Before expiring he succeeded, however, in setting fire to the hostel, thus contributing decisively to the Costa Rican victory at Rivas.
As a post note to this story, William Walker was shot by a Honduran firing squad near Trujillo, Honduras on
September 12, 1860 in the 32nd year of his life.  His form of extreme manifest destiny was soundly defeated by the armies and individuals of Central America.  This was the last time a foreign power threatened to rule and govern in Central America.
Honduran Bacalao Soup (April 2, 2016)
I have been experimenting with various recipes for this delicious codfish stew from Honduras.  During Holy Week 2016 we were able to share 45 baskets of the ingredients for this delicious soup/stew with those of limited resources.
I've  heard back from several  families who shared with me their recipes and  I hope to have a kitchen tested receipe  soon for those of you who love to experiment in the kitchen with foods from other countries.   This stew is delicious with codfish along with the hearty flavour of tomatoes and cilantro with a touch of cumin and some slices of delicious avocado.  Bon apetit soon!!!
Los Tamales of Central America (7-17-15)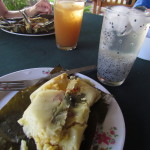 It's the weekend and what's cooking in the kitchen?  Here in Central America a common dish to have is to make up  some tamales and store them in the frig and then during the week after work, you can put a few to boil in the pot and along with something to drink and some salsa, you have a dish that will satisfy most people with a great meal. As I show here, how about a delicious tamale and a glass of a delicious drink made with chia seeds?
Those who have been making tamales here in Costa Rica for many years say that the secret is in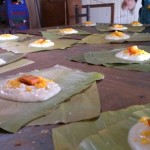 the dough or what we call the masa.  Now as to what is their secret, its hard to get some ladies to share what it is that they do to make their "special" masa.  With a great masa, you can add into the center of the tamale what particular items you might have a liking to.  Such as: a piece of chicken or pork, green or black olives, bell peppers, onions,  carrots, green peas, raisins or even some fresh basil or a piece of delicious cheese.  Whatever it is that melts your butter so to speak. Enjoy!
Often times the tamales that you buy here are made with animal fat and meat broth for the masa but being a vegetarian I make and also I can find tamales that are made with  a healthy oil rather than animal fat and that use vegetable broth  instead of an animal broth.  I personally think they are just as delicious.
I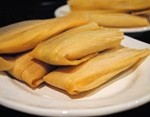 f you live in the southwest of the USA or you've had contact with the Mexican culture you will be familiar with tamales that are made  with corn husks.  In Central America our tamales are made with Plantain leaves.  I have included a picture of the Mexican tamale so as to show you the difference.
The church where we attend from time to time make tamales to sell around the area and thus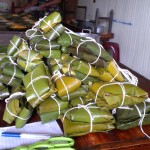 are able to make a few dollars for special needs that the church may have.  The pictures posted along with this article are from the church where recently we pitched in to make several hundred to sell.  However, there's always a few left over for one to sample for all your hard work.
Enjoy your tamales and as King Solomon said a good number of millennium ago in Ecclesiastes 9:7: "Go, eat your food with gladness".
Remember us who labour helping those in need.  While you enjoy your tamales consider making a contribution to SOR Mission so we can continue our mission to the poor of Central America.  Simply go to the Donate Now area of our website to make you contribution.  Thanks!
The Ring of Fire (May 15, 2015)
It,s said that the Pacific Rim has been called a ring of fire and being that we're located in Central America, in a condensed portion of the continent, we are more exposed to volcano's and earthquakes here in Central America than other areas of the North/South American Continent.
Recently I had the joy of visiting El Volcán Poás located in Alejuela Province.  Its located about
37 kilometers from Alajuela which is near the Santa Maria International Airport and  soars above the plains below at 2704 meters (8871 feet) above sea level.  In walking the trails of the park, one realizes that you're walking at a fairly high altitude, but with occasional stops to admire the flora and fauna with the park boundaries one can do just fine.
On our return we stopped at a local restaurant where don Santiago the owner gave us the royal treatment at his restaurant called, Restaurant Mirador Poás , just a short drive from the volcano as we returned down the mountain in the afternoon.  His menu is inexpensive and his restaurant is clean and the views of the valley below are awesome.  Tell him hello from Mateo the missionary if you happen to stop by.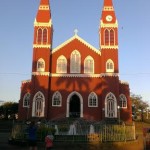 The back roads of Costa Rica are delightful and my drive home took me by the charming city of Grecia, Costa Rica where I was able to capture the church and park in the late afternoon sun.  Note the Palm trees reflecting upon the face of the church.
For many of us seeing this majestic church one admires the beauty of its architecture but for many its nothing more than that.  The true beauty of the church resides in the acts of worship that take place within its walls, giving honour and praise to the risen Savior Jesus Christ.  As the New Testament of the Bible states that God has proclaimed that we are his church, his priesthood and we as his creation offer sacrifices of praise and acts of worship such as helping the poor.  This then is the sacrifices in which he is well pleased.
Our winter rains are beginning to diminish (10-25-2014)
Here in Costa Rica the winter rains, as we call the time from May to mid November, are beginning to diminish just a bit and one can feel the drier season might just be around the corner. Those endless days of rain are little by little are lessening and now there  are a few days of sunshine in between.  As North America braces for colder temperatures,  in the Central Valley of Costa Rica where I live  the days are still in the mid to upper 70's with the evenings going down to the mid 60's.
This time of year will be a great time to visit Costa Rica and include in your travels some time for a mission project with SOR.  Our office is located near world famous cloud forests that include trails, birding, zip lining and white water rafting.  Nearby also is our famous volcano Arenal which is an active volcano that has nearby thermal pools for visitors.   Costa Rica is still to be discovered.
As we roll into December one will begin to hear the wild parrots squawking at they fly around the area letting us all know that summer is now just around the corner.  In December also come the seasonal winds that signal that its time to pack the cooler into the truck so that we can get away for a day at one of our beautiful Pacific beaches.  We have yet to get away but that thought keeps us going each week.
The Tropical Rainy Season is Beginning (4-28-2014)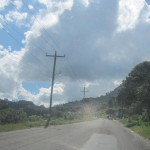 It begins as a few scattered showers from day to day and then within a week or so the clouds will begin to open up on a consistent basis and the afternoon rains will become routine.  It does change your schedule a bit as one doesn't go walking in the afternoon but rather in the morning.
The air becomes humid and the felt temperatures can increase but then there are those days when you wake up with a chill in the air.  Living where one doesn't have heat nor a dehumidifier in the house its amazing how you adapt.  After awhile you don't notice these changes.
With the rain, Costa Rica and the rest of Central America returns to a luscious green colour and even the birds have a more joyous sound in the early mornings beginning at 4:30am.
The Mango Season is here! (3-28-2014)Â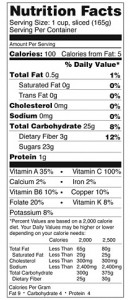 Yes, its that time of year when mangos are in season.  Like the tulip and daffodil bulbs of the northern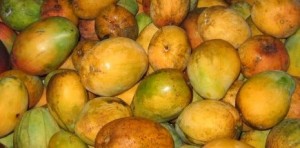 hemisphere or the thawing of the winter ice on the Great Lakes, its Mango Season in Central America.  The colours are so vibrant and pleasing to the eyes, it makes one just want to dive in and consume one or two at a sitting.  How about some nutritional information first.
This luscious fruit is very high in Vitamin A which is essential for normal vision, reproduction, the immune system and heart, lung and kidney function.  Mango's are also high in Vitamin C which is one of the most important nutrients for your body. This vitamin has excellent cancer fighting antioxidants that are our watchdogs so to speak against all those free radicals, not to be confused with political radicals, such as chemicals and fats.  It also helps us to avoid cardiovascular disease which is the number 1 killer of adults 18-65 in the USA.  The number 2 killer of adults 18-65 is cancer.
Daniel and the diet he choose over all the fast food he could consume such as McDonald's, Deli counters at the local market, etc. is the point we want to make today about Central America.  Daniel and his friends choose a healthy diet or the rich food of the kings court.  The book of Daniel opens with an explanation of what these young Hebrews choose.  Read the account here as I further explain what this has to do with being a missionary.  This mosiac is in the Metropolitan Museum in NYC.  The prophet Daniel
passed by the two lions that were guarding the entrance to the area of the King's court.  As I looked over this art and as I touched this mosaic I felt I had touched ancient history of the times of Daniel as he serve the kings of Babylonia and Persia until his death.
His diet, maybe including delicious mangos, was shown to be superior to that of the culture of the Kings court  to  which they were brought.  His diet caused him to stand out and be noticed in the pagan culture.  It even helped him to become one of the high officials of Babylon and Persia which were in present day Iran and Iraq.  His final resting place is subject to debate but its assumed that he is buried in present day Iran (Persia)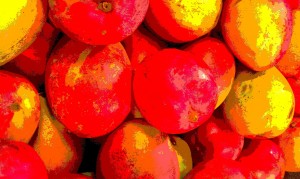 His belief like ours was to follow God and exhibit a way of life that often times ran counter to the culture in which he lived.  In our Christian culture we too should do the same!  Such as not telling lies or cheating on our taxes, actually helping the widows, the poor and the disenfranchised  in our neighborhoods, living a healthy lifestyle with diet and weight and demonstrating a servants heart to those around us.  The list goes on but here I just mentioned a few things we should be following.
This then is the work in part of being a missionary in living out Romans 12:1-2. We transform the culture in which we reside by the renewing of our minds which brings about the renewing of what we do and then this plays out in changes in those around us which brings about a change in a segment of the culture in which we live.  Through being a counter culture within a larger non-Christian culture can act as an attraction to those seeking the truth.
Together we can do this by encouraging each other by living our lives according to the teachings of Jesus Christ.  We need time in the study of his work and communing with him through prayer and time of solitude.
Driving through Central America (11-9-2013)
Our overview of the trip
To give you an idea of how the trip went, we had to stop after 60 miles because our pastors truck was overheating.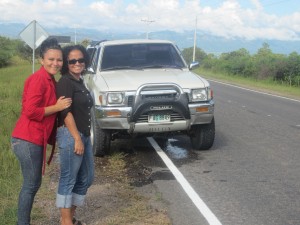 As we stopped along the road with steam pouring out from under Pastor Marco's truck we knew that God had something to teach us along the way from Honduras to Costa Rica.  As it so happened, a  neighbor nearby brought water and amazingly I was able to repair the problem with Marco's truck.  We were off again towards the Honduran customs & immigration.  After leaving Honduras w/o incidence,  we had to pass through the northern Nicaraguan immigration & customs.  Immigration was a breeze but when we noticed the customs official not liking the looks of us, we  thanked God for your prayers to get us through this situation. For the next
five hours

God taught us about patience while we  waited in the hot sun as she had lunch, chatted with  her friends and passed by from time to time w/o eye contact.  This avoidance up through the early afternoon continued  UNTIL God sent an angel in the form of another customs official who felt sorry for us for waiting so long in the hot sun.  Many told us that she was waiting for some "financial assistance"  but our angel friend finally got us back on the road again and heading down through the mountains of northern Nicaragua that evening towards Costa Rica.  A mutual decision at 9:00pm the first night by the four of us put us into a hotel near Granada, Nicaragua  that another "angel" suggested we stay at.  After a short nights rest we were on the road again towards the southern Nicaraguan & Costa Rican border.  Psalms 91:11 says, " For he will order his angels to protect you wherever you go." Read Psalms 91:1-11 (NLT)

At the Nicaraguan border with Costa Rica we once again went through customs and the inspector said we had "too much
stuff " packed into the car plus we had things for  SOR Mission's hospital and children's ministries.  After sharing our "story" about helping the poor and disenfranchised the official softened her stance and gave us passage out of the country and our last hurdle awaited us at the Costa Rican customs. Little did we know what was in store for us there.
Passing through the immigration process was quite easy.  Alexandra & I  are legal residents of Honduras, carry US passports and Alexandra has dual citizenship in Costa Rica. The last hurdle before us and the open road to San Jose was the Costa Rican customs.  To summarize we had a six (6) hour wait as they wanted to put everything we had into customs impound. After talking with the inspector without success he mentioned we had to get a customs official to accompany us to the storage area.  What ended up as an amazing story was that this custom's official felt compassion for us and decided to help us to get our personal used household items through customs without paying up to several thousand dollars of duty.  After negotiating with the Costa Rican customs he was able to get us through with a fee of only $130.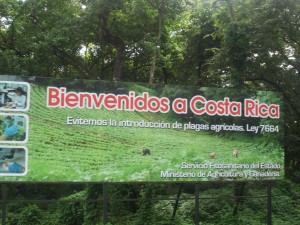 We were amazed and were on the road by 6:00pm that evening.  After an evening in Liberia, Costa Rica we left the next day for San Jose and along the way one of Pastor Marco's tire blew out but amazingly just across the street was a tire shop who repaired the flat and sent us on  our way.  Once again our guardian angels had appeared,  Later on,  just before arriving at our destination, the pastor's pickup stopped cold in the middle of a very busy street.  At this time his wife was driving their pickup along with Alex while he & I went on ahead.  There was a tow truck just behind them who ended up towing the truck to a place where we could store it to see what was the problem.  The alternator had burned out just a kilometer from our destination but again God's angels were there to help. After unpacking our belongings at three different places that evening we went in search of a local hotel.  Before leaving to return to Honduras Pastor Marco and I were able to repair the alternator and find a good used tire to use on their trip back home.   In looking back we thank God that he's gave us a safe trip, taught us patience and even allowed for us to have some good times of laughter during our 1000 kilometer adventure to Costa Rica.  We thank each one of you who had us in your thoughts and prayers while we made this trip. As Philippians 4:13 says, " For I can do everything through Christ, who gives me strength. " See full passage here
I hope to post some additional comments and stories on the TODAY page on this website this week as time permits.  While there today you can look at some of the pictures I posted of our trip.  They are also at here at PHOTOS.
Joyfully Submitted
Mateo
The Importance of Central America (10-7-2013)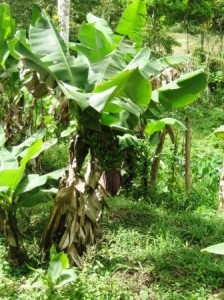 The term "banana republic's" was used years ago to refer to the Central American & Caribbean Republics who existed primarily on the export of bananas to other parts of the world.  Today the phrase has lost its meaning due to the fact that many of these republics have a diverse economy which includes much more than just bananas.  The term  was first coined by the American writer O. Henry (William Sydney Porter 1862–1910 ) to describe the fictional "Republic of Anchuria" in his short story " Cabbages and Kings" written in 1904 while he lived in exile in Trujillo, Honduras (fleeing an embezzlement charge for bank theft)  in the late 1890's.  If you have an interest to read more about this theme and its history you can go to the link at: http://en.wikipedia.org/wiki/Banana_republic.
We will be writing more of the history and our work in the three countries of Honduras, Nicaragua and Costa Rica.  Check back from time to time to read further about our work in these three countries.
To listen to the song about the loading of bananas sung by Harry Belafonte from his 1956 album Calypso please click here on the title: "Day O" or the Banana Boat song.  The words speak volumes about the those difficult days of working to load the boats with bananas for the northern hemisphere consumer.  These were difficult days for the workers of such firms as "United Fruit Company" and others.  The songs main line is "daylight come and we wanna go home" because they worked all night loading the boats for their early morning departures from these Banana Republics.
Carmen's Trip North on the "Bestia" (7-28-2013)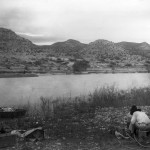 For those of you who live north of the Rio Grande River dividing the US State of Texas with Mexico, you might find this interesting. When many of you see a Hispanic during the course of the day you might not be aware of the struggle that those who enter illegally have had to get to the land of opportunity. This article is not defending or accusing any of the people in this article nor those who have attempted to seek economic opportunity. This article is written exclusively for you to understand from their side of the border the desperateness of living in Central America and namely Honduras. The picture to the left was taken in 1899 by the USGS is of the Rio Grande.
Recently in talking with several very close friends, they relayed to me the story of their friend Carmen who left for the States a few months ago seeking economic freedom for her and her children. Leaving them behind with her mother she embarked on a trip of over 2-3 weeks to reach the other side of the border. In hearing about her story and the struggles she had I was so amazed as to the harshness of attempting such a trip. Even those whom she met and talked about still remain nameless. I was struck by what some people will go through in an attempt to improve their life for themselves and their families.
From what I read the number of people attempting to cross the US border from Honduras continues to climb. Last year authorities estimate that about 100,000 Hondurans leave each year for the USA and opportunity. The U.S. Border Patrol apprehensions of Hondurans rose from 12,197 in fiscal 2011 to 27,734 through August of 2012*
One of the most horrible parts of the trip is the ride on the "Bestia" or in English "The Beast" where as many as up to 500 people a day ride on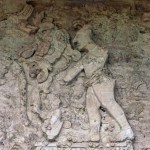 the top of the trains north from southern Mexico to locations in the north nearer the border with the USA. The book "Enrique's Journey" and the movie documentary "Maria en Tierra de Nadie" or Maria in No-Man's Land talk about many of their struggles. The Beast begins at a rail hub north of Palenque, Chiapas, Mexico in the city of Arriaga. Palenque is one of the major cities in the region that has some distinctive history as it was a Mayan area in southern Mexico that flourished around the seventh century. The Palenque ruins date back to 226 BC to its fall around 1123 AD. This picture shows one character from these ruins. The other site where many illegally board trains is near the city of Tenosique which is located in the State of Tabasco, Mexico.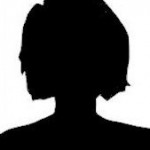 Carmen related that when women attempt this trip, they learn that it's not matter of if you might run the risk of being raped but rather how many times you will be raped before entering the US or being sent back. Her nameless friend was raped a good number of times she shared and somewhere near the midway mark of the trip north she was pushed off the moving train at night after trying to fight off a man attempting to rape her once again. Being nameless like so many, no one will ever know what happened to her or if her family in Honduras ever received notification of her death. It's reported that the train and its fare are controlled by the corrupt element that live off these people. These elements are the cartels of Mexico and the gangs of Central America who live along the way to benefit from their travel north.
For those who made it north illegally such as Carmen or Enrique and Carlos with whom I have talked on many occasions, these remittances that the illegal's send home to Hondurans from the US amount to about 16.7 percent of Honduras' GDP.(Gross Domestic Product) The $ amount is well over $2 billion per year. In comparing the per capita GDP of Honduras, USA and Canada we find that the US is in 7th position worldwide at $49965 per person, Canada is 12th at 42,693 per person and Honduras is 124th at $4194 per capita income per person. ****
Having been to the Statue of Liberty in New York harbour I too have read the inscription that says, ".Give me your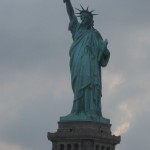 tired, your poor, your huddled masses, yearning to breathe free." My grandparents came through Ellis Island in the same New Your harbour seeking a better life for themselves. Today the issue of immigration has become so muddled due to potential terrorist risk, political infighting and other factors surrounding this entire subject.
In talking with my friend Carlos, who was one of the lucky ones, he worked 5 years in the States, sending home to his wife the money he made working two jobs. He lived in an apartment with several other men who too worked as he did. He lived as frugally as he could and saved every dollar he could. Upon returning home he bought land and built a home for his wife and family. Later he bought other land and built a corner grocery in a small Honduran rural town and now he's finishing an apartment upstairs that he will rent out. The US gave him an opportunity and he appreciated all that he received. He did also leave behind every benefit he paid in as an employee working in the USA. This included income tax and social security benefits. He's just happy to have made it north on the Bestia.
SOR Mission is working in country to help those who suffer both spiritually and economically.  Our work here is to help those who suffer stay in country to seek a better life here and not subjecting themselves to the extreme danger and risk of the trip north.  You can donate to this mission by going to our donate page and scroll down to Mercy where your donation will be used to help these people who suffer.
*http://propublica.org ** Arizona Recovered Human Remains Project*** Excerpts taken from Article written by Paul Willcocks for the Honduran Weekly**** http://en.wikipedia.org/wiki/List_of_countries_by_GDP_%28PPP%29_per_capita
Some interesting facts about Honduras (6-6-2013)
1.  The size of the country of Honduras is 112,492 square kilometers as compared to the State of Washington in the USA that is 184,665 square kilometers and British Columbia, Canada is 944,735.  This gives you the relative size of our country.  It is the 2nd largest of the original  five Central American Republics.  Can you name all five?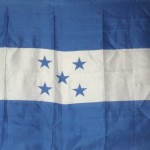 2.  The Honduran flag is comprised of three stripes with two blue and one white.  The Honduran flag was made official in 1886 and has a wonderful explanation of its colours and meanings.  The 5 stars in the centre refers to the five original Central American colonies with its star in thee centre showing its central importance.  The colours have meaning as well with the white referring to peace and honesty and the blue referring first to being surrounded by the blue Pacific on the south/west and the Caribbean on the north/east.  The colours represent vigilance, truth, loyalty, perseverance and justice.  The motto of the country of Honduras is: Free, Sovereign and Independent.
3.  The population according to a July 2012 estimate is 8,296,693 inhabitants with the median age being 21.3.  The median age for the United

States is 36.8 years and Canada's median age is 40.6 years.
4.  Honduras used to be called Spanish Honduras to differentiate it from British Honduras which became known as Belize in 1973 in anticipation of its independence from Great Britain in 1981.
5.  Hondurans are known at Catrachos.  This name was given to them by Nicaraguans who did so after a famous Honduran general named Florencio Xatruch.  Other names that are used that you might remember are Gringos for North Americans, Mexicanos for Mexicans, Nicas for Nicaraguans and Ticos for Costa Ricans
Afternoon thundershowers bring May flowers? (5-6-2013)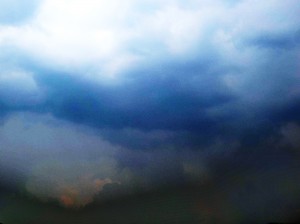 Its been said in the northern and southern hemispheres that April's showers bring May flowers but here in the tropics, such as where we live in Honduras, May thundershowers bring humidity and that produces more showers and lightning shows in the evenings.  We've had some amazing shows in the nighttime sky of God's creativity.  One finds that this time of year is something to look forward to as the super hot days of late March and April give way to the cooler but yet humid days of May and beyond.  Many a night we turn off the lights and simply watch the display before us as bolt after bolt makes its way from above to wanting to be the first to do a touchdown somewhere near our apartment.  There indeed is never a dull moment living in the Tropics.
Joyfully presented by Mateo
So What is a Gnomon Anyway?
Tegucigalpa, Honduras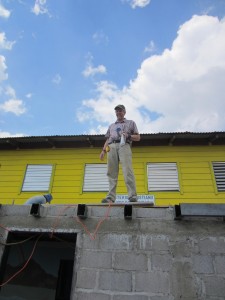 If you had been in Honduras on Saturday, April 27, 2013, you might have been tempted to look for a "gnomon" to check and see if what this article discusses was really so.  Do I have your attention?  You might check after reading it when this phenomenon occurs where you live. 
This past Saturday, April 27th, was one of the hottest days of the year in the capital city of Honduras.  We were working outside that day building a church high above the downtown area working as much as possible in the shade if possible.  Did we find any?  Well read on to see what you think.
Yesterday at 11:46AM the sun overshadowed Tegucigalpa at its Zenith, which is 90 degrees to the surface of the earth according to the Department of Astronomy and Astrophysics at the National University.  This astronomical phenomenon is known as the first passage of the sun through its zenith. This event is recorded only twice a year in the regions between the tropics of Cancer and Capricorn.
The first passage of the sun through the zenith is always recorded between the months of April and May, when the sun in its apparent motion moves from south to north, after the Spring Equinox.The second passage overhead occurs in the month of August, with the sun moving from north to south after the Summer Solstice.
During this phenomenon the objects that are perpendicular to the surface of the earth cast no shadow because the vertical rays of the sun are directly overhead.  This could be seen from various buildings, poles or other vertical objects said the experts at the National University.   For those of you familiar with sundials, the shadow stick or "gnomon" would have also indicated this.  In other parts of Honduras, this day and hour can vary from two days before up to a week after depending in what part of the country you are living in. 
For those of you planning a trip to the beautiful tourist island of Roatan should plan on arriving on or before May 5th so as to maximize your suntanning experience as the National Institute says it will occur May, 5, 2013 at 11:43am on the island. 
With respect for the tropical sun,
Mateo
Excerpts taken from El Diario Heraldo
 
Scroll down for latest posting as of 1-21-2013
The name Honduras means "depths" for the deep waters that Columbus originally found on the Caribbean side of the country. He is traditionally quoted as having written, "Gracias a Dios que hemos salido de esas Honduras". "Thank God we have left those depths".

Honduras is officially known as the Republic of Honduras, one of 5 Central American Republics situated on  the long isthmus of land between Mexico and Panama– Columbia.  It shares its land borders with Guatemala to the west, El Salvador to the southwest, Nicaragua to the southeast,  the Pacific Ocean to the south and Caribbean Sea, to the north.
Sometimes statistics can be boring but other times they reveal a lot.  Read on and let me know what you think?
In Honduras today:  According to the statistics that are current up to 2010, there are approximately 65% of the people living below the poverty level in this country.  This reveals why the need is so great for us to help those who have no safety net.
The labour force by occupation breaks down as follows:
Agriculture employees 39.2% of the population
Industry employees 20.9% of the population
Services employee 39.8% of the population.
The main industries of Honduras are: bananas, coffee, citrus, corn, African palm, beef, timber, shrimp, tilapia and lobster.  These items consist of the majority of the exports of this country.
Our electricity is often sporadic and can come and go for no apparent reason.  The electricity that we enjoy comes from a 50/50 balance of fossil fuels and hydroelectric power.
What is exported from Honduras to other countries such as the USA? Â Apparel, coffee, shrimp, automobile wire harnesses, cigars, bananas, gold, palm oil, fruit, lobster and lumber.
Literacy:  By definition this includes people over the age of 15 who can read and write.  Currently there is about 76.2% of the total population who can read and write.
Where in the world are we anyway?  (1-21-2013)
Well, a short geography lesion is always interesting I think.  If you crossed the Rio Grande in Texas and traveled through Mexico then Guatemala and El Salvador you would arrive in Honduras, Central America.
There are 5 republics in Central America as most don't recognize Panama as a Central American republic because it  "succeeded" from Columbia in 1903 with a little help from Teddy Roosevelt and the American Navy.
Honduras is the second largest of the Central American Republics and is about the size of the state of Tennessee.  I hail from Washington and Honduras is about 40% as large as Washington State.
For comparisons as you read this during the cold winter months in the northern Hemisphere, Honduras sits about 14* (Degrees) north of the equator and about 87* West.  Bellingham,WA,  where our office is located is 48.7* north and 147* W.  Jerusalem is located at 31.7* north and 35* east of the prime Meridian which passes through Greenwich, England
There will be most postings before the temperatures begin to rise.  Hopefully there will be more postings before it hits 55 degrees F.  Now you know that might be next week so I better hurry to post more information about Honduras right?  Reply below please