Indeed Jesus Christ, our God and Savior has entered our time and space. (12/25/2012)
You will find updates posted to Construction, Mercy, Justice and Click for St. Nick throughout the day.  Our end of year newsletter will be sent out before December 30th.  If you would like to be added to our mailing list,  please leave your email address.

TODAY'S UPDATE:Â 
Our Click for St. Nick Campaign distributed the last basket yesterday, December 24th.  Our goal was met to provide 50 baskets for the needy and hurting people of Tegucigalpa, Honduras.  Thanks to each of you who made a donation through either our secure on line site here or by PayPal or by personal check.  Check back for several stories that will be posted today.

Our campaign started Saturday, December 15, with the visit to 6 families including the home of these 4 young children where we left a plastic container filled with nutritious food as well as fresh vegetables in addition to a four (4) place setting of table service. We have continued this week visiting various home by foot as some of the people are only accessible by foot paths.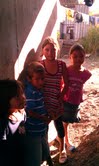 This is now our final week to reach these families with our Christmas Baskets through our campaign for "Click for St. Nick" .  We are now sharing these seeds of righteousness and hope  with the families that we are visiting.  These baskets bring them the joy of Christmas and its true meaning.
Tomorrow once again we will be out dropping off these baskets for these needy families and we hope and pray that God gives us increase so that these families will receive some token of help to help bring them into the new year with a renewed hope.
We have been reading the Christmas story from St. Luke and then offering  a prayer of blessing for the family and home.  We have been  accompanied by people who we know that live in these barrios.  Tomorrow we will have several people accompanying us into a very dangerous barrio in the city but we believe that God's love is the more powerful force there is on this earth.  He will protect us to help bless others.
You can read under the page Click for St. Nick of our visits up into the mountain areas surrounding Tegucigalpa.  We have had an exciting time and you will enjoy reading this page.  Click here to read about it.
This year why not put a present under the tree where the package is marked for the poor of Honduras.  This package under the tree will cost you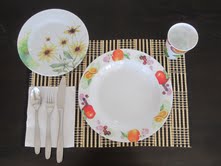 $35 for one basket and will include a food basket that is shown elsewhere on this site plus the table setting as shown here.  This will be one of the most meaningful presents under your tree this year.  What a wonderful way to train our children to love our neighbor in need.
Wishing you the best,
Mateo
Site Information is updated below  if you are new or haven't been on the site for a time.
Our site now gives you the option of reading the page(s) that interest you about our work in Honduras, rather than viewing it as a blog.  Our basic menu bar includes a number of page listings that you can click on and read in more depth about what we are doing in Honduras.  You can follow the PEACE PLAN where you can click to see what we are doing in these 5 areas.  You can follow Alexandra as she sows seeds of righteousness with the women of Honduras by following her  work with JUSTICE  and her work through her hospital ministry.   MERCY   is where you can find out about what we are doing to help various families, mothers & children to escape the vicious cycle of abuse, hunger and violence.  There is also the CONSTRUCTION page for those of you wanting to follow what we're constructing as well as TODAY which posts our frequent blogs about what's happening in our personal lives in Honduras.  Read them all and make your comments so our website can become more interactive with you our reader. During this Christmas Season we'll be involved in visiting a number of intercity poor families to pray and drop off Christmas baskets through our Click for St. Nick Program of helping families in desperate need.
Read along as you see us planting Seeds of Righteousness in the lives of people living in our beloved Honduras.