"John the Baptist preceded the coming of the Messiah, preparing the people for his arrival.
John  softened adult hearts to become like little children's,
  changing disobedient minds to the wisdom of faith."  Taken from John 1:17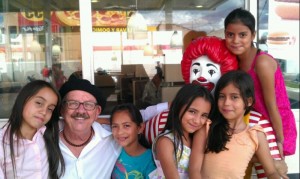 Our work in Honduras and Central America has been with adults and children.  Often times children are overlooked as to their importance in God's Domain.  They represent his character including in part his innocence, purity and  love.  He says to not hinder them from getting to know what He's like.  That's what we're doing in Central America.  Bringing children so they can know their loving Father in Heaven's Domain.
Working in part with children and planting seeds of righteousness in them helps us to see what it means in the passage above that tells us to soften our hearts to become like little children.  How easily they can forgive has always spoken to me about forgiveness!
Here above Alex and I took 5 girls from the church to have ice cream and they had so much fun just having an ice cream and getting out of the house for an hour or so.  We talked to them about the love that Jesus has for each one of them.
If you're new to this site and you're inspired by what you have read, please reply with your email address so we can include you in our bimonthly updates from Central America.  Please return to read further updates as we post them.
Joyfully,
Mateo